This shop has been compensated by Collective Bias, Inc. and its advertiser. Product was provided by the client for review; however, all opinions are mine alone. #WorldsSmartestToothbrush #PhilipsSonicare #OprahsFavoriteThings #CollectiveBias
I'm really excited to have put together a little gift guide for men this year on my blog! I feel like it can be really hard to shop for men this time of year without being bombarded with the usual "alcohol and sports" ideas.
Now, don't get me wrong, I'm totally married to a sports guy and there is nothing wrong with beer or sports but come on, our guys deserve more that
just
that, right? I tried to give you a little outline of ideas here if you're looking for some direction when shopping for the men in your life!
I love this "300 Writing Prompts" journal that I found- such a fun idea for a guy who likes to write! Other artsy ideas are music, a cool piece of art or tickets to a show!
My husband is pretty trendy and stylish. Of course, a wallet is not a new idea by any means but hey, it's a staple of life for most guys! I think this cool canvas green wallet is super unique and cute!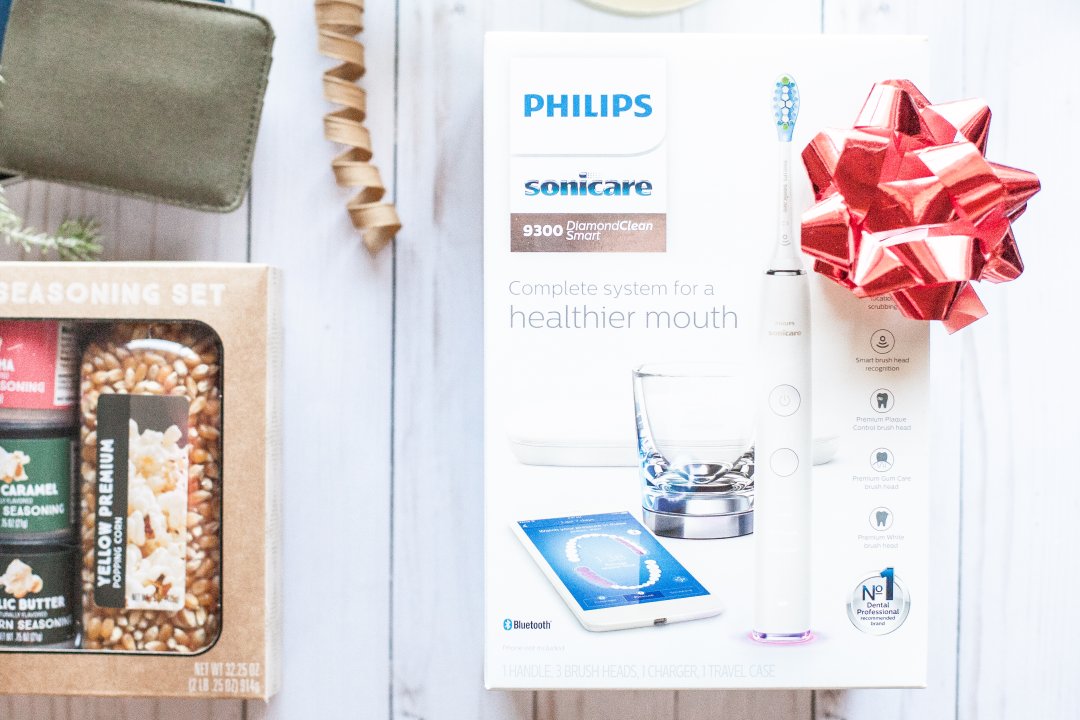 (You can shop this image by clicking above!)
// Something Electronic //
Electronics are something I usually see geared towards men's gift giving during the holidays but I tried to think outside the
box!
The Sonicare DiamondClean Smart 9500 Rechargeable Toothbrush was named one of Oprah's Favorite things in 2017, and I had the chance to try a DiamondClean Smart for myself.
I have been an Oprah fan for years and love using her Favorite Things List to help me think of gift ideas for the holidays!
This year I have discovered the amazing benefits of using an electric toothbrush! I don't think I can ever go back to using a traditional one and th
is
Philips Sonicare DiamondClean Smart 9300 Rechargeable Toothbrush f
rom Amazon is way better than what been using from the drugstore! Philips Sonicare is the number 1 Dental Professional recommended brand and this is their "

best ever toothbrush for complete oral care". It has

4 modes and 3 intensities to help you focus on your whole mouth, teeth, gums and tongue. Additionally, you can c

onnect with the Sonicare app to get real-time feedback and personalized coaching on your oral health! I'm pretty blown away by this technology!
A way to a man's heart is through his stomach, right? I thought this little popcorn set was such a neat gift idea! Get your guy some fun snacks or maybe cooking classes for the two of you to take together. In my house, it's my husband who does all the cooking so I honestly think he'd even love a cookbook!
Girls aren't the only ones who need a sweet gesture! I think this, "I Love You a Latte" mug is just manly enough but still a super sweet way to show you care.
It's weird to me that chocolates are always thought of as a feminine gift because men have a sweet tooth too! I decided to incorporate that all encompassing, "dudes love alcohol," idea here with these Caramel Rum Truffles! (Yum!) Other "sweet" ideas could be a tin of cookies or a gift basket full of your guy's favorite candies and treats!
I hope that my gift guide gave you a few ideas for the guys on your Christmas list this year! Do you also get frustrating looking for gifts for men or is it just me?