This shop has been compensated by Collective Bias, Inc. and its advertiser. All opinions are mine alone. #
WhatFuelsRight
#CollectiveBias
I can't express enough how positive the experience of adopting a pet has been for our family! I was really nervous about adding another living thing to our lives but it has so much easier than I anticipated and adds immeasurable joy to my kids' everyday!
My boys have truly enjoyed the experience of having their first pet and I have loved walking through this special time with them! They are at perfect ages (6&10) to help out with pet care; in fact they love getting involved and taking on the extra responsibility. I'm partnering with

Purina®

and PetSmart today to share a few ways to get your kids involved and teach responsibility by caring for a pet! I love that not only am I strengthening their bond with Finn but am also helping them mature by learning to serve and care for someone besides themselves!
Involve your Kids from the Beginning!

Our decision to get a cat was kind of spur of the moment but also something that had been pressing on my heart for about a year prior. The kids were over the moon when I announced that we would be spending the weekend looking for a cat and they were with me every step of the way!
If bringing home a pet is something you plan for in advance, you can get your kids involved by having them help research pet care online or by looking for books at the library. Even though we didn't plan far in advance for Finn, the boys were with me at the pet store to help choose what we needed (vs. what we wanted) to care for our new kitty! We also started talking about what they would be doing to help out and I made it clear that they would need to show responsibility from the start!
Play Time

This is one of the easiest ways to get your kids involved in pet care because hello, kids love to play and so do animals! I've taught the boys that sometimes when Finny starts biting or getting a little too rambunctious, he is telling us that he needs to play. They love tossing toys for him in the living room or even creating cat toys out of cardboard. Asher was making forts for Finn the other day in the bedroom and I love seeing our cat bring out their creative side!
Feeding

Feeding is another easy way to involve your children and teach them some responsibility! Asher, my 6 year old, especially loves feeding Finn. When he gets home from school, he always makes sure Finn's food and water bowls are filled! Finn gets especially excited about his morning meal because that's when we give him wet food and Roman loves helping with that!
We like mixing it up and offering Finn different foods and have recently tried the

Purina®

Beyond Natural and Purina® Beyond Simple Origins lines that we picked up at PetSmart! PetSmart has

the widest variety of premium quality Purina products available at amazing prices. We love and trust the
Purina brand (check out my last post with Purina here!) because they provide complete and balanced diets for pets!
Rome and Ash love our visits to PetSmart and we always seem to come home with a few extra things that we didn't come in for... During this trip, Roman tried to convince me that we should get a Chinchilla, ha! PetSmart allows pets in store and I really want to bring Finn on one of our trips to see how he does!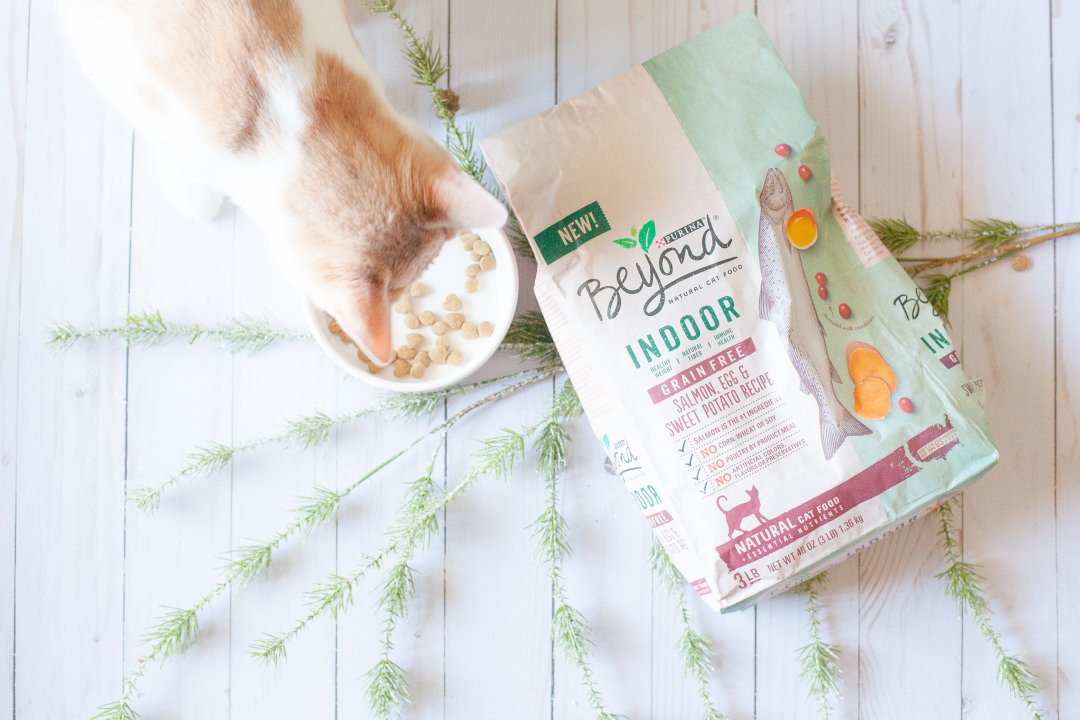 Click on the image above to shop the
Purina Beyond Natural cat food
for your kitties! We tried the Indoor Grain Free cat food in the flavor Salmon, Egg & Sweet Potato and as you can see,
it is Finn-approved!
The Dirty Work
Honestly, most of pet care is pretty fun and enjoyable in my opinion but of course there are a few aspects that take a little more encouragement when getting the kids involved! I am definitely dropping the ball a little in this area. I usually clean out the litter box myself because it's just so easy but this is an area that is perfect for teaching my boys responsibility! I also need to involve the boys a little more in making sure they brush Finn regularly because the cat hair situation is starting to get real around here!
Best of All, Cuddling!
I really feel like giving our kids more responsibility in pet care helps to strengthen the bonding process! Feeding, grooming and attention are all ways my cat feels love and giving my boys a nudge in those areas has helped them to connect!
The cuddles between my boys and Finn are the sweetest part of owning a pet. It's literally priceless to see how Finn will lay on his back and let Asher bury his face on his tummy because as Ash says, "it just feels so good!" Roman is not a great sleeper but now Finn likes to hop onto his bunk bed with him some nights and those are the nights that Roman always falls asleep the fastest!
Well, I'm literally getting a little emotional because honestly having a friendly furry animal in the house is one of the best decisions I've made as a parent so far! I hope this post has helped spark a couple ideas for you if you are planning to get a pet or have just brought one home!
I'd love to hear your stories of adding a pet to the family in the comments below! For more cute cat pictures, follow me on Instagram: @bygillianclaire
Other Kitty Posts: